January 14th, Garland's
A cold and dull Sunday morning brought out the stalwarts for the first recoil therapy session of the New Year. 25 hardy members turned up to enjoy the wind chill that did not take any prisoners but did not stop them either judging by the ammo flowing out from stock.
A very good day in all and a chance to meet up with old pals after the Christmas lay off, discussions regarding future shoots when the weather gets more tolerable brought up the question of all day shoots so that those who cannot, or are reluctant to get out early have the opportunity to come for the afternoon shoot and those who want to can stay all day.
Answers on a post card!
All in all a good start to the year with the promise of better to come. 
Highlight of the day, in the Training Officer's eyes at least, was his niece, who has never shot before,  using a Lee Enfield to great effect on the 250 yard targets and rather putting a number of more experienced members to shame…
Pete
Secretary SPRPC
January 27th. Staffs. Phoenix and Leicester Shooting Centre Joint Indoor  Competition
Well, what a wonderful second shoot of the year including a most interesting competition. Cold windy and wet conditions where we have to lay in the elements and shiver, happily didn't apply at all as we enjoyed the comfortable indoor range facilities, superbly enhanced by everyone's generosity supplying tuck from pies and crisps to cakes and choky bars. The normal facilities of hot and cold drinks were in abundance.
For the competition small bore was employed with 21 intensely tight targets per card leaving no room for error. A most enticing prize for the winner concentrated everyone's efforts. How to remain rock steady and yet conform to the time limit, that was the challenge. There were some who tried very hard but couldn't avoid those pesky errors, hold on, that adequately describes the writer, oh dear!
Very many congratulations to the winner who took the prize and runner up who received small financial compensation. Many thanks to both clubs for a great atmosphere and to the organisers. You know who you are and we all know too and are most grateful. Members came from far and wide, north of Stafford, Yorkshire and all around the midlands. Very many thanks to you all for a great event.
Chairman Dave.
February 9th, Bisley.
A number of the club's members were invited by a former member,  Rob, who now resides in southern parts, to be guests of his new club at a 1,000-yard shoot at Bisley on Friday. Perhaps because the weather forecast could best be described as 'invigorating' or maybe because it would have entailed an early start to the day, only the Training Officer crawled out of bed at 5am and began the long journey south.
On arrival at Bisley, a number of things became apparent:
Most of the other club had stayed in bed too
Of those that had turned up, only Rob was actually going to go and shoot, the other was just there to watch (and gloat ?)
The zero range had been closed for maintenance as the Bisley staff felt "nobody is going to shoot in this weather"
That, of course, had its positive side. With only one other shooter to compete against, I was guaranteed at least second place.
We signed in at the range office and made our way out to the 1,000 yard point on Stickledown Range.  The ranges next to Stickledown are named according to artillery practice, one is Short Siberia, the other Long Siberia, thus, in my book, making Stickledown itself Siberia Ground Zero. On Friday, the ground was well below zero. It looked deceptively pleasant from within the car: bright sun was illuminating the target from over our shoulders. Perfect for shooting ! The downside was that the wind was actually rocking the car.
Rob and I set up our rifles on the firing point. Unpacking my mat and laying out my 7mm Remington Magnum rifle took about a minute. Rob took rather longer to set up what can best be described as field artillery. It's a .284" Winchester (the 'in' cartridge with the F classeratti) custom built by Mik at Dolphin Guns with every gadget and gizmo going including a micro-adjustable tripod (why have two legs when you can have three?). Given the temperature, Rob made a mental note to ring Dolphin and enquire about the electrically heated trigger and cheek piece options.
As we hadn't been able to zero, we agreed to operate as a team to get the first shot on paper.  Rob dialed in the elevation on his scope required to shoot at 1,000 yards whilst I did some quick calculations to see what effect the headwind would have. More elevation was required. Rather a lot more. Further elevation was then needed to compensate for the low temperature. Rob and I looked at each other. Were 21 minutes extra really necessary? It sounded a lot. The calculations were re-done. 21 minutes extra elevation was what the maths said. 21 more minutes were dialed in.
Next for azimuth correction. The wind was 22mph gusting to 37. Gusting very erratically, and different at all distances out to the target. We quartered the range, estimated the average wind for each quarter, weighted the averages to account for the declining bullet speed with distance and then dialed in the resultant windage adjustment.
I settled down behind my scope (primarily to expose as little surface area to the wind as possible rather than just to look through it) and watched for the fall of the first shot.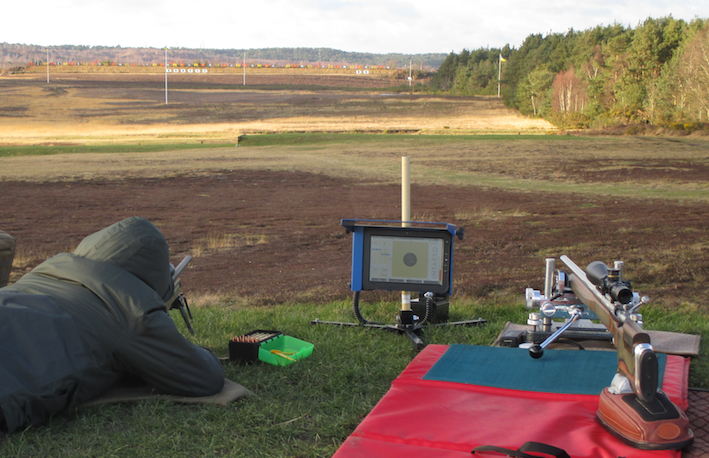 Rob exhaled, rested, squeezed the trigger.
BANG !
Almost two seconds later I saw a splinter of ice being chipped from the perma-frost below the target.
"Shot short, azimuth correct. Raise eight decimal four minutes"
"8.4 minutes more elevation ?" queried Rob, incredulously.
The adjustment made, Rob settled again and took his second shot.
"BANG !"
"Shot scores 2 at three-o'clock. Elevation correct, adjustment for windage, Left, three decimal 7 minutes"
Adjustments were made. A third shot taken.
"BANG"
"V-bull. Right of centre. Elevation correct, adjustment for windage, zero decimal six minutes…"
For the next hour Rob continued to perforate the paper, almost always within the 5 ring and frequently in the V bull.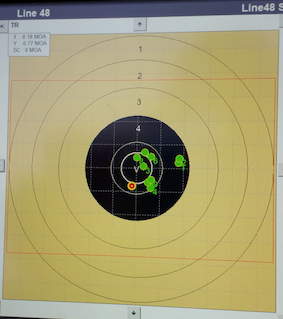 How did I do ? Well, I didn't.
Though the 7mm Rem Mag is a pretty good ballistic match for the .284" Winchester I simply didn't have enough adjustment available on the elevation turret of my scope to add the necessary correction for the headwind. Using holdover on the reticule would have been possible, but as that meant having the cross hairs centred on clear blue sky almost 38 feet above the backstop I declined to do so. Sometimes it pays to have the best equipment available and, good as my x4 Zeiss scope is, it wasn't good enough for Friday's task. I did, however, have a few shots with Rob's rifle and scored 3 consecutive V bulls with my three shots. Not dead centre in the V bull I admit, but it was a bit windy…
Training Officer (still de-frosting)
Garland's, February 11th
In keeping with the tradition of carrying on in the face of adversity, I put pen to paper to inform those who shall be of the same  demeanour, the joys of cold weather shooting.
Sunday came as did 31 stout members of the club (some were thinner) to enjoy the venue of Garlands in the snow and wind and rain and sun and wind again. Snow and sleet attacked us through the day but everyone kept at it just to keep the barrels warm so that they could warm the fingers.
Several new chaps turned up to have a go at trying to hit paper, with surprising regularity and accuracy.
Interaction to solve problems resulted in a good days shooting, with a fair few laughs on the way through.
Vouchers for grub were, as always, well received and  consumed.
Dates for your diary for Catton will be posted on the members page, please check it out as there is no Garland's meet next month as it is now at Catton.
Here 's to the warmer weather and new ventures coming to fruition in the near future.
Pete.
Secretary SPRPC